One of only a few surviving examples of an 18th century spinet by the great Thomas Barton is set to come to auction in December. A spinet is the name for a very small upright piano that stands much shorter than a regular piano. This high-quality example stands just 81.5cms high and has been a treasured piece of Phillip Lucas' collection for many years.
It was built only yards away and around the same time as Phillip's home (well-known for its beautiful, historically sympathetic restoration) in London's Spitalfields. Commenting on parting with it, he says: "It is very difficult for me to let this go, as it has been such a charming addition to my home, but with the house's redesign I realise I have to make room. I hope that it goes to someone that appreciates it as a much as I have".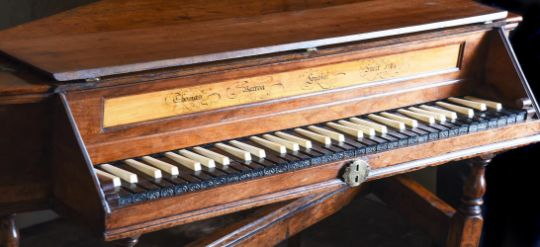 (Detail):  Rare George I Walnut bentside spinet by leading 18th century piano-maker Thomas Barton (1685 to 1735)
 Estimate £8,000-£12,000 (lot 453)
Spinet pianos were produced from the 1930s due to a demand for smaller, cheaper versions. It served the purpose of making pianos available for a low price, for owners who had little space for a piano. While hundreds were made in this period, very few survive, making them exceptionally rare.
This particular spinet was produced by the eminent harpsichord and spinet-maker Thomas Barton (1685-1735), whose workshop was based in Bishopsgate, London. He learnt his skills from the master maker Stephan Keene (1640- 1719/20) and went on to set up his own workshop in 1709. From here he transformed the craft, becoming one of the most renowned makers of his time.
The spinet will be offered in Dreweatts upcoming sale titled: Property from the Phillip Lucas Collection, Spitalfields House and other Properties including Garden Furniture and Statuary on December 1, 2022. It carries an estimate of £8,000-£12,000 (lot 453).
Feature Image:
A Rare George I Walnut bentside spinet by leading 18th century piano-maker Thomas Barton (1685 to 1735)
 Estimate £8,000-£12,000 (lot 453)