An AI art generator can be used in many ways, especially since these tools are improving each and every day. For example, An AI art generator can be a valuable tool for social media marketing, providing unique and engaging content for your audience.
AI art generators can produce stunning and original visuals that can be used as eye-catching graphics for social media posts. Create custom images, illustrations, or abstract designs that align with your brand's aesthetics or campaign themes. These visually appealing creations can attract attention, increase engagement, and differentiate your brand from competitors. VanceAI offers just the tool.
We will go into further details about the online AI art generator, VanceAI Art Generator, to see how it works.
What is VanceAI Art Generator?
A cutting-edge computer software known as VanceAI Art Generator harnesses the power of artificial intelligence algorithms, specifically deep learning neural networks, to produce AI art and awe-inspiring images that bear impressive resemblance to artwork created by humans. These programs delve into vast collections of artwork, deeply studying them to gain insights into the myriad of styles, techniques, and intricate patterns used by talented artists. Armed with this acquired knowledge, the AI text to art generator creates artistic images, establishing the visuals with each pixel in mind, that either faithfully mimics existing artistic styles or ventures into making something highly imaginative.
Naturally, an AI app generator online can provide value in multiple ways. AI art generators can generate personalized content based on user preferences or input. You can create personalized avatars, custom images, or unique visuals that reflect individual user data. This personalized approach can enhance user engagement, make users feel more connected to your brand, and encourage social sharing. Use AI-generated art as a conversation starter on social media. Share intriguing and thought-provoking visuals that invite your audience to share their interpretations, opinions, or stories related to the artwork. This fosters engagement, encourages comments and shares, and creates a sense of community around your brand.
In addition to the AI art generator, VanceAI offers a range of other image editing tools designed to enhance and improve images. These tools, including the ai image enlarger, enhancer, background remover, and more, can be seamlessly integrated with the AI art generator, providing users with a comprehensive and enhanced experience. The image upscaler tool enables users to increase the resolution and size of their images without sacrificing quality. The image upscaler tool enables users to increase the resolution and size of their images without sacrificing quality.
Similarly, By combining these image editing tools with the AI art generator, users can enjoy a comprehensive suite of features to manipulate and transform their images. They can upscale and enhance the quality of their images before utilizing the AI art generator to apply artistic styles, create unique visual effects, or generate original artwork.
Why it makes the cut:
The VanceAI platform boosts the already impressive AI art generator from text tool thanks to its UI, performance, and presence of other image editing tools. As for the tool itself, it has some really interesting features that you won't commonly find in other similar tools. Furthermore, it is easy to use and automatic.
Pros:
It is easy to use and offers interesting features that help in creating visuals that are closer to expectations.
It is pretty affordable considering that just $4.95 per month can get you 100 image credits and full access to the entire VanceAI platform.
Cons:
There are rare instances where the image processing may take time.
It can show preview icons for the image styles or artist styles that it provides.
How to Create Artworks with VanceAI Art Generator?
Use the steps below for AI art generator tool online.
Step 1: Once you click on the link given above, you will be redirected to the webpage of the AI art generator tool. From there, click on "Generate AI Art" to proceed to the Workspace.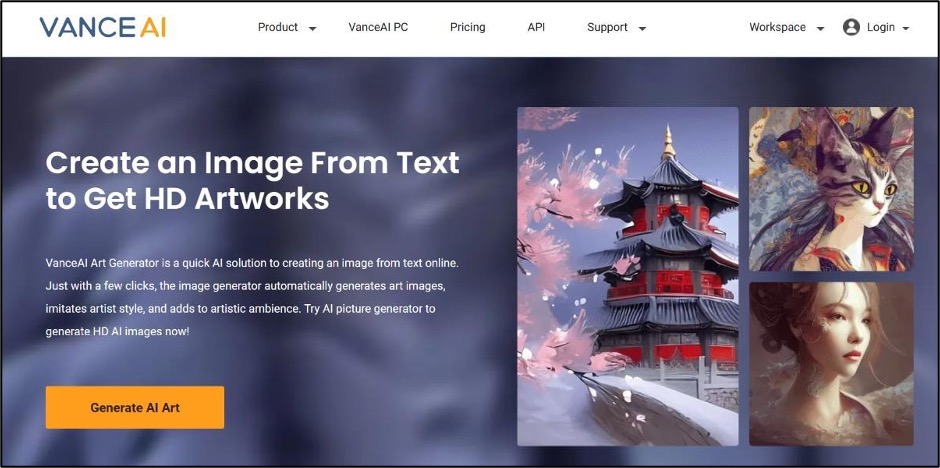 Step 2: In the Workspace, you can type your description or choose from the prompts given. Next, use the customization options. Lastly, click on the "Create" option to create a visual.
Step 3: After a few seconds, you will see the visual appear on the screen below. You can then use the download options to save the image on your device.
While the VanceAI tool is not exactly an AI art prompt generator, it still provides users with a few to get started with.
VanceAI Pricing
Upon registering for VanceAI, users are granted a monthly allocation of three image credits at no cost. These credits are versatile and can be utilized across all of the platform's available tools. In the event that users find themselves in need of additional credits beyond the complimentary allocation, they have the option to choose from various paid plans tailored to their specific needs.
VanceAI offers a range of paid plans, with the most affordable plan priced at a mere $4.95 per month. This budget-friendly option includes an allotment of 100 image credits, along with access to exclusive features. Opting for any of the paid plans unlocks advanced functionalities such as the ability to process multiple images simultaneously in batches and enjoy faster server speeds, ensuring a smoother and more efficient experience.
Additional Options from VanceAI
VanceAI is a platform that pushes its accessibility further every time. VanceAI PC from VanceAI, for example, is a software version of the platform, in simple terms. It does not have all of the VanceAI tools yet, but it is upgrading itself and including more and more tools. Similarly, you can also use VanceAI JA if  you prefer to use the platform in the Japanese language.
Apart from photo editing, VanceAI offers VancePDF.com, which deals with PDF files and offers related features. Here, you can expect useful features such as splitting, merging, conversion of JPG to PNG, and others. On the website, you can know more about all the features that it provides to users.
Lastly, VanceAI Photo Editor is a valuable tool to have along with an AI art generator. The Photo Editor has multiple tools such as image cropping, layout editing, rotating, background removal, and more, which you can use to edit the visuals that you create with the AI art generator.
Final Verdict
AI art generator tools are remarkable tools for automated art creation, and even if that's not their primary purpose for you, they can still serve as valuable resources for generating ideas and enhancing visuals through image editing. This can be helpful for social media and marketing. As discussed above, you can generate ideas for your logos, posts, banners, and more through careful prompts. You can also create abstract wallpaper type visuals with this tool and go creative with your social media.
VanceAI Art Generator stands out in terms of user interface design, thanks to its thoughtfully crafted Workspace and a range of impressive features. Notably, users have the capability to upload a reference image, enabling them to take inspiration from existing artwork or incorporate specific elements into their creative process.