Malaysia is a country with so many cultures, especially ones that practice modesty. To dress modestly, you don't have to cover yourself from head to toe so that any part of your body is visible to others. That's just not what modest wear is all about. With stylish and trendy modest wear in Malaysia, you can keep up with the latest trends without compromising your faith in any way.
What is Modest Wear?
Modest wear is the practice of dressing in a way that doesn't draw attention to yourself or away from God. It's a way of dressing that emphasizes modesty and humility.
In the world today, we are bombarded with images that encourage us to dress in a way that is not modest. The clothes we wear can be used to express ourselves, our personalities and most importantly, our beliefs.
Many factors go into deciding what is or isn't modest clothing. For example, the length of your skirt or pants should go below the knee so that you do not reveal too much leg. Men and women need to make sure their shirts don't show too much of their chest or stomach areas. Some women also wear a tudung to cover their hair, so it doesn't draw any attention.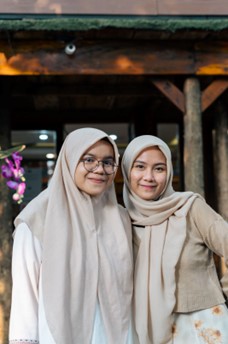 Modest Fashion Is Suitable For All Body Shapes & Sizes
As Malaysia is a predominantly Islamic country, our culture features a lot of stunning outfits that are halal for both men and women.
Modest Wear For Women
Women especially have a lot of options for modest wear, with the timeless classic baju kurung. It is the perfect outfit for modesty and style and can be worn as casual wear. This long-sleeve, ankle-length outfit comes in various designs, and they're so easy to get in Malaysia! Baju kurung is also very easy to pair with a tudung to cover your head as well. They're also usually made from cotton, silk or polyester, making them super comfortable and breathable. These dresses are also wudhu friendly!
Baju Kebaya is another outfit equipped for modesty and style. This outfit is worn by women all over Southeast Asia, including Malaysia, Singapore, Brunei, Indonesia and Thailand. It's easy to wear, comes in a variety of styles and designs and is wudhu friendly as well! It has a high collar with cuffs at the end of its long sleeves.
They are usually made out of cotton or silk fabric with floral patterns embroidered on them using colourful threads. You can even ditch the traditional look and pair it with jeans or pants and sneakers while still maintaining modesty.
Modest Wear For Men
Men don't have as strict rules when it comes to modesty compared to women. They can be more free with their clothes, as long as they cover their chest and wear pants below the knee. A batik shirt is great for men as it pairs well with shorts (below the knees), jeans and pants. It is a classic style that every man should have in his wardrobe. They are stylish, comfortable and most importantly, modest. It covers most of your body except for your hands, face and neck area.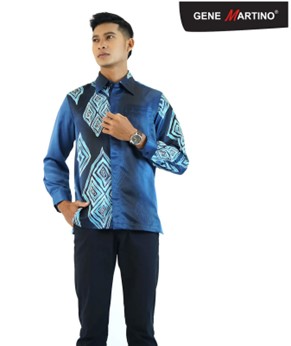 Photo credit: genemartino.com.my
Modest Fashion That Is Perfect For Everyday Wear
Don't let modesty lead you to abandon style. There are plenty of outfits that you can find in Malaysia that look good and still respect the values of modesty. You just have to find the hidden gems and know how best to style them. From there, any fashionista can pull off modest wear in Malaysia without hesitation!