The UK's first installed FANUC ROBOSHOT S450iA injection moulding machine has doubled output on a key range of moulded products for Advanced Plastics Ltd, a supplier of precision-engineered parts to OEMs in the automotive, medical, packaging, defence and consumer goods industries. Installed in combination with the integrated FANUC M020iD35 robot, the success of the installation prompted Advanced Plastics to order a second machine-robot combination from FANUC UK, which has already been delivered and commissioned.
"The combination of the FANUC robot and moulding machine allows us to seamlessly integrate our processes," says Rob Anderson, Managing Director of Advanced Plastics. "This has resulted in a dramatic increase in our output from around 600,000 parts on a particular range up to a planned 1.3 million."
A UK first
Based in Hull, Advanced Plastics undertakes everything from initial design concepts to volume production of plastic mouldings and assemblies, structural plastic components and technical automotive components. The company has almost 10 years' experience of using FANUC equipment, as Rob explains: "Our injection moulding machines produce high-level engineering parts in various grades of plastic. Since we purchased the first FANUC robot back in 2012, we now have nine ROBOSHOT machines and over 40 FANUC robots. We are proud to be the first company in the UK to purchase the FANUC ROBOSHOT S450iA. We purchased this machine on the back of our experience with FANUC, as we needed a bigger machine that gives us the sensitivity to protect very delicate tooling. This machine perfectly fits the bill."
Winning combination
The ROBOSHOT S450iA injecting moulding machine operates with a clamp force of 4,500kN, a double platen die height of between 350mm and 1m, and a clamping stroke of 900mm. Weighing 29.7 tonnes, it boasts a rated maximum injection speed of 180mm/s.
FANUC's M-20iD35 robot, meanwhile, is a high-inertia, high-strength model with a hollow wrist and base that delivers fast and efficient movement in all six axes. Its maximum load capacity of 35kg is more than sufficient for the lightweight plastic injection moulded components produced on the ROBOSHOT S450iA at Advanced Plastics. Similarly, its reach range of 1,831mm means it can easily cope with stretching into the ROBOSHOT S450iA to extract components and load them into a collection point or pallet – regardless of the dimensions of the moulded part.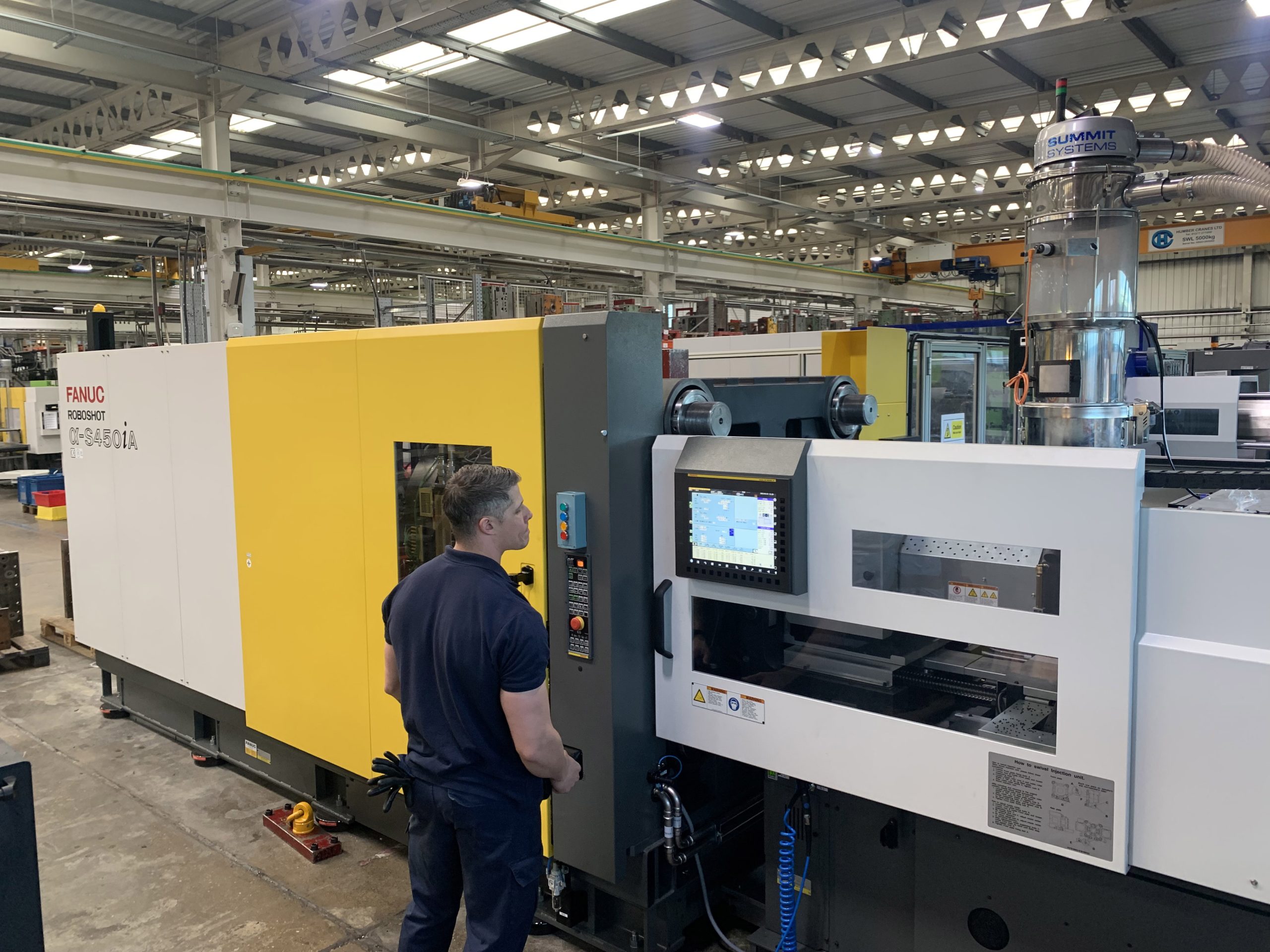 Smart protection
Like all of FANUC's offerings, the solution provided to Advanced Plastics has a range of intelligent, digital features. In this instance, one of the key smart benefits is the FANUC AI-Protect system for both mould and ejector. This provides unparalleled mould protection, which in turn neutralises an important potential cause of downtime.
By measuring the motor torque, AI-Protect immediately stops the machine if any restriction is detected, shielding the mould during the full opening and closing cycle while having no impact on clamp closing speeds. The same technology protects the ejector's forward and reverse movement without affecting productivity. AI-Protect even alerts operators when greasing is required, or the mould is worn.
"AI-Protect allows the moulds to open and close at fast speeds with full protection of the tooling. The tooling can often be just as expensive as the moulding machines so we must protect it," says Ed Darling, Advanced Plastics' Process Manager.
To highlight the effectiveness of this feature, Ed outlines an incident when an apple was dropped between two surfaces of the mould: "Because of the accuracy of the AI-Protect, the apple wasn't crushed. That shows the precision that we need on these moulding machines."
Auto-adjustment and control
Other automated features include Clamp Force Adjustment, which checks and adjusts the minimum clamp force to provide increased security, eliminating the need to manually modify this critical parameter. Optimising clamp force also minimises mould wear and increases machine life, cuts component defects, reduces energy consumption and compresses start-up times.
The M-20iD35 robot at Advanced Plastics is controlled via the latest R-30iB control system. This integrates more than 250 software functions to ensure industry-leading speed, accuracy and safety. This is all neatly packed into the FANUC A-cabinet, with a high-performance CPU and mainboard with increased memory, a compact and stackable design, and the user-friendly iPendant Touch control interface.
As a result of the close integration of machine, robot and software, exceptionally fast cycle times can be achieved. As Ed Darling explains, this is a key benefit to Advanced Plastics: "I particularly like FANUC moulding machines because, being all-electric, they are economical to run; but mostly, I like them because we are a cycle time-oriented business."
Repeat custom
For Rob Anderson, meanwhile, the success of the first system quickly led to the company placing an order for a second: "We went for the second machine due to the easy installation of the first. The short lead times offered by FANUC meant we could get products to market extremely quickly. At Advanced Plastics, we like to experience new technologies and look at innovative technologies where we can achieve better results for our customers. In essence, the FANUC ROBOSHOT S450iA was the only machine that could do the particular job that we needed it to do ­– and it does it very well."
To find out more about FANUC's range of ROBOSHOT injection moulding machines, visit the FANUC UK stand B13, Plastics Live 2022, 5-6 July, Coventry Building Society Arena