Installing solar systems at home provides several financial and environmental benefits. Despite this, many homeowners still need clarification about purchasing structures. The main reason is solar financing, which involves fairly high one-time costs. Suppliers offer designs that cost approximately $16,000 to $20,000.
To this amount, you need to add the payment for the installation, which increases the costs to 30-40 thousand dollars. The sum also affects the number of panels. According to SaveOnEnergy, the average home needs approximately 15-20 solar panels. However, do not be afraid of these numbers and amounts of money. After all, there are several different methods of acquisition and some of them involve significant financial savings.
What Budget Should Be Allocated for the Purchase of Solar Panels?
Homeowners, who are considering the possibility of purchasing structures, are advised by experts to first study the available offers on the market and compare the conditions. It's very easy to do. You need to find solar companies near me on the Internet and view the packages that are offered to customers. The type of solar panels must be a significant factor affecting the formation of the price. After all, productivity and financial benefit depend on this indicator. Let's consider the peculiarities of pricing for the 3 main types of structures offered for sale:
| | |
| --- | --- |
| Kits with polycrystalline elements | This variety will be a real find for those interested in the possibilities for solar savings. Solar panels, in this case, are made of several silicon crystals, so they have a slightly lower efficiency and a lower price. The average cost is 0.70-1 dollar per watt. |
| Monocrystalline kits | Have the highest level of efficiency because they are made from a solid silicon sheet. The average price is 1-1.5 dollars per watt. |
| Thin-film varieties | These are stable and versatile designs that have low performance. The average cost is 1-1.5 dollars, but their number can be higher. |
Having learned how solar finance is formed, it is worth considering the main options for purchasing systems.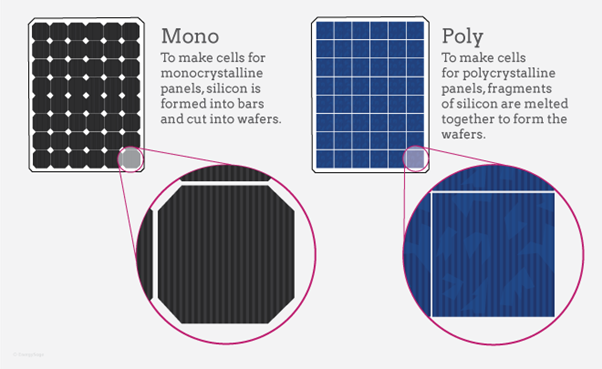 Source: American Solar Energy Society
https://ases.org/monocrystalline-vs-polycrystalline-solar-panels/
What Are the Financing Solutions for Solar Panels?
In the past, buyers were offered fairly limited options for purchasing solar systems, but now the situation has changed. The transition to the use of renewable energy sources is more actively supported by the government and various financial institutions, so there are now more options for purchase. Moreover, among them, some offers help to significantly reduce the costs of purchasing and installing solar systems.
Mortgage Loans
Modern solar panel financing programs include two types of mortgage loans. These are Fannie Mae HomeStyle Renovation and FHA 203(k). Both proposals are complex. They help to obtain funds for the purchase of a house and the installation of solar structures. In addition, these mortgage loans apply to modernization and various types of repair work.
Among the key advantages, you can highlight the possibility of using one of the presented programs to pay for solar modernization by refinancing the current mortgage. Additionally, it is worth pointing out the benefit of Fannie Mae HomeStyle Renovation. Under the terms of this loan, it has a value-to-value ratio of up to 97. This significantly increases the chances of receiving it.
As for the disadvantages of solar panel loans, these offers may have higher interest rates. In the process of applying, there may also be bureaucratic red tape, and the period of execution of reconstruction works needs to be improved. They must be completed within 1 year (12 months). Considering these characteristics, we can conclude that mortgage loans will be a profitable solution for those who have decided to buy a house and want to equip it with solar panels. In addition, loans can be used by homeowners who are not eligible for personal loans with lower rates.
Ordinary Personal Loans
Buyers who do not have the full amount to secure the full one-time financing for solar panels can choose a personal loan. Such offers involve the formation of fixed monthly payments and fixed interest rates. According to the terms of the contract, these indicators will not change during the entire period of the loan.
Financial institutions provide several types of personal loans. They may differ in limits, terms, and payment terms. Due to the availability of such a variety, everyone who has the right to a loan can choose the best option for himself. Among the advantages, it is worth highlighting a faster procedure for providing cash is worth highlighting. Buyers usually have access to the money in 1-2 days. Most institutions also do not add to the amount of commission for providing money to the client.
An additional advantage is the lack of a deposit. This means that the buyer receives a loan without the requirement of a large amount of equity and the need for a home mortgage. Along with advantages, personal loans have disadvantages.
For example, you need to have excellent or good credit to qualify for low rates. Otherwise, high rates can cause serious overpayments. Given the specifics, personal loans will be the optimal solution for those who need money quickly to purchase solar systems.
Contracts With Companies for the Use of Solar Energy
You don't have to buy structures to experience the benefits of using solar energy. Solar companies offer 2 alternative usage options: solar lease or PPA (power purchase agreement). Each of these solutions can help you save on your electricity bill. However, in these two cases, there are different objects for payment.
In the case of solar rental, users are offered to pay monthly rates. They are fixed and specified in the contract. If a sales contract is selected, the tariff is calculated depending on the electricity produced. That is, the user pays for each kWh generated by solar structures. To choose one of these solutions, you need to compare your electricity needs and financial capabilities.
In any case, both solutions offer several advantages. Among them are the absence of large one-time costs, unimpeded access to solar electricity, and the avoidance of maintenance costs. Responsibilities regarding repairs and carrying out other important works fall directly on the supplier company.
Collateral Loans
This category includes two options for getting money to buy solar systems: a HELOC (home equity line of credit) and a home equity loan. These solutions have a scheme similar to conventional personal loans. However, the difference is that real estate loans require the presence of an object for collateral. Otherwise, the solutions are similar.
The customer is offered constant monthly payments, a fixed repayment schedule, and fixed interest rates. The main advantage is the possibility of obtaining low-interest rates and fair terms. However, it can be obtained if you have a good credit history and equity.
Conclusions
Experts and engineers are constantly improving solar systems, but so far they have not found solutions to significantly reduce the cost of structures. Under these conditions, homeowners are actively looking for the most profitable financial solution to pay for solar panels for their homes. Fortunately, solar companies and financial institutions offer several purchasing options.
You can pay for solar systems with your own money. If the payment amount is too large, then you can consider credit options. Financing in this case can be provided by mortgage loans, personal loans, or secured loans. In addition, you can choose a contract for the purchase and sale of electricity or the rental of solar energy.