Bluetooth SIG just released its 2023 Bluetooth® Market Update in April 2023, in which it mentioned an emerging power-efficient technology – Ambient IoT. Bluetooth SIG stated in the market report that the Ambient IoT promises to link and effectively manage the common devices that are all around us, and has the ability to upend market predictions with an addressable market of more than 10 trillion devices across many industries.

source: 2023 Bluetooth market update
So, What is Exactly the Ambient IoT?
Ambient IoT is firstly leveraged by an IoT SaaS company called Wiliot, a company strongly focusing on supply chain visibility. Its IoT solution is based on battery-free BLE sensors that are small and in a form factor of a sticker. Wiliot uses these BLE stickers to be attached to crates of goods from some big retailers, in order to track them (location, temperature, etc.) across the entire supply chain.

Ambient IoT is realized by using 3GPP IoT devices, which are preferred by supply chain asset tracking solution implemented via GSM/ LTE 4G/GPS to optimize supply chain routes. The benefit of Ambient IoT devices lies in that they are much cheaper and smaller than previous-generation 3GPP hardware. Why?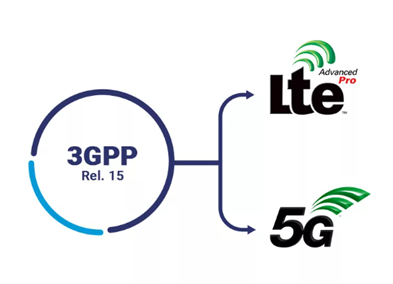 Ambient IoT Leverages RF Energy Harvesting Technology
Ambient IoT device employs radio wave as its energy source for tiny computers and devices. This works very similarly to how solar panels collect visible sunlight. This capacity to gather radio wave energy relieves the Internet of Things (IoT) from the financial and replacement burden of batteries or direct power connectivity.
Ambient IoT offer the Capability of Being Battery-free
Ambient IoT devices allows compact design of simply having a small computer included and the technology needed to harvest energy from radio waves. Because of this simplicity, Ambient IoT devices can emit data packets without the need for a battery or other external power source. On the other hand, they are far less expensive than traditional Bluetooth LE (Low Energy) beacons or tags. 
A number of standards organizations is going to be involved in the developing field of Ambient IoT. In addition to the 3GPP, IEEE and the Bluetooth SIG are also thinking about future standards that will help this technology become a widely used and affordable standard for use in both consumer and business environments.
Is There Any Other RF Energy Harvesting Technologies?
Yes, of course. 
The first device to use RF power scavenging in free space was a microwave-powered helicopter in the late 1950s. Later on, the idea of "power harvesting" or "energy scavenging" was defined as a strategy for obtaining energy from the environment utilizing a variety of techniques, such as solar energy conversion and thermoelectric conversion. This method triggers enormous potential for replacing small batteries in low power electrical systems and gadgets.

EnOcean Energy Harvesting
EnOcean is a wireless energy-harvesting technology that is largely utilized in building automation systems. It was designed with the global radio standard (ISO/IEC 14543-3-1x) for battery-free switches and sensors in mind and optimized for use with extremely power-efficient sensors.
The 30m indoor range of EnOcean technology makes it ideal for smart home automation use as an EnOcean gateway to ensure that all home sensors can perform their functions without significantly depleting their energy supply.

Atmosic Energy Harvesting
If you are look for a chip processor with RF energy harvesting technology, Atmosic is definitely a quite good option. In 2022, Atmosic has developed energy harvesting solutions that are directly integrated energy harvesting capabilities.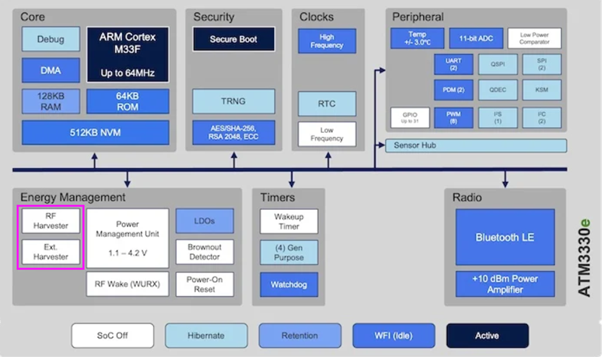 A typical use of this newly dubbed ATM33 SoC is LT ECG (Long-lead Electrocardiogram) sticker. ECG recording is a crucial technique for identifying heart rhythm abnormalities. Arrhythmias that have not been picked up by a standard 12-lead ECG or 24-48 hour ECG Holter can be found by long-term ECG monitoring. From this perspective, long-term continuous ECG monitors need to be compact, light, and long-lasting while yet transmitting the heart's electrical signals for the duration that the patient is wearing the device.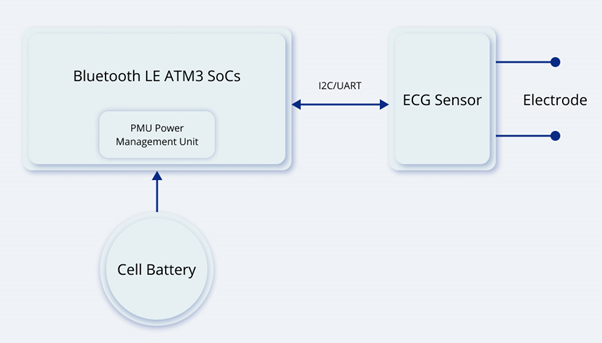 As the image shown above, Atmosic BLE energy harvesting SoCs is capable of serving as PMU power management unit of ECG monitors. As of real-life use cases, Atmosic based ECG monitors can work with a BLE LTE/WiFi gateway with Li battery to provide uninterrupted data transfer to the healthcare platform.
Final Words
Whether you want to believe it or not, energy harvesting technologies are a very real part of the world today and are now considered essential to the development of the internet of things. Energy harvesting enables us to think of Internet of Things (IoT) solutions that are not constrained by the many issues associated with using batteries, including maintenance issues, charging/replacing issues, battery size and weight issues, and most importantly, the significant environmental costs associated with battery use. 
Ambient IoT, EnOcean Protocol, and Atmosic Energy Harvesting Solution possesses a number of commonly essential characteristics that make it especially well suited for usage in wearables, ultra-low-power electronics, IoT edge devices, microcontrollers, and wireless sensor networks. They presents a workable substitute that avoids all of the environmental drawbacks that batteries have, and are ideal power solution for IoT devices.