Netflix has become a staple in households worldwide, providing endless hours of entertainment for its subscribers. But did you know that there are hidden categories and movies that you may not have access to? You can unlock these hidden gems and expand your viewing options by using Netflix secret codes and below are the most searched netflix cheat codes of 2023.
Netflix secret codes are essentially a series of numbers that can be added to the end of the Netflix URL to unlock hidden categories and movies. Each code is specific to a particular category or movie genre, allowing you to find content that may not be readily available through the main Netflix interface.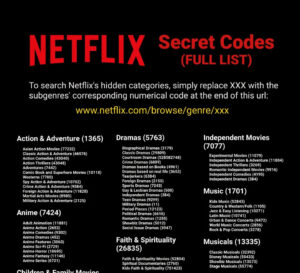 Using Netflix secret codes is simple. All you have to do is add the code to the end of the Netflix URL. For example, if you want to access the "Classic Comedies" category, the code is 31694. To access this category, you must add the code to the end of the Netflix URL like this: https://www.netflix.com/browse/genre/31694. Once you enter the URL, the hidden category will be revealed, and you can start browsing for movies and shows.
Most Searched Netflix Secret Codes 2023
Here are some of the most popular Netflix secret codes you need to know:
Action & Adventure (1365) If you're a fan of adrenaline-pumping action movies, this is the category for you. From epic battles to heart-stopping car chases, the Action & Adventure category has it all.
Anime (7424) Anime fans will be delighted to know that there's a dedicated category for their favorite genre. From popular series like Naruto to lesser-known gems like Samurai Champloo, the Anime category has something for everyone.
Classic Comedies (31694) If you're in the mood for some good old-fashioned laughs, the Classic Comedies category is the place to be. From Charlie Chaplin classics to Mel Brooks masterpieces, this category has a wide range of comedies from the golden age of cinema.
Documentaries (6839) If you're looking for something more informative, the Documentary category is a great place to start. From true crime stories to nature documentaries, there's something for everyone in this category.
LGBTQ+ Movies (5977) Netflix has a great selection of LGBTQ+ movies, but they're not always easy to find. By using the LGBTQ+ Movies secret code, you can access a wide range of movies that celebrate diversity and inclusion.
Romantic Movies (8883) Looking for a movie to watch on date night? Look no further than the Romantic Movies category. This category has everything you need from classic rom-coms to tear-jerking dramas for a cozy night in.
Sci-Fi & Fantasy (1492) If you're a science fiction and fantasy fan, this is the category for you. The Sci-Fi & Fantasy category has something for everyone, from time-traveling adventures to magical quests.
By using Netflix secret codes, you can unlock a whole new world of movies and shows that you may not have even known existed. Whether you're in the mood for a classic comedy or a heart-stopping action movie, there's a hidden