Buy now pay later (BNPL) services are gradually gaining traction in the Indian payments market and the transaction value of these services is estimated grow at a compound annual growth rate (CAGR) of 32.5% between 2022 to 2026 to reach INR1.1 trillion ($15 billion) in 2026, driven by increased demand for short term credit coupled with growing consumer preference for online shopping, says GlobalData, a leading data and analytics company.
GlobalData's E-Commerce Analytics reveals that the BNPL market* in India is estimated to grow by 125.8% to reach INR363.0 billion ($4.9 billion) in 2022, as an increasing number of merchants, banks, and payments providers provide customers with an option to pay for their purchases at a future date.
Shivani Gupta, Senior Banking and Payments Analyst at GlobalData, comments: "BNPL, which is already very popular in Australia and many European markets, is gradually gaining traction in India, especially among millennials. It provides consumers with the flexibility to pay for purchases at later dates with no-interest, making it a lucrative payment tool, particularly for those who do not own credit cards. Further, with pandemic adversely affecting consumers' disposable income, the demand for short-term consumer financing solutions has increased in the past couple of years."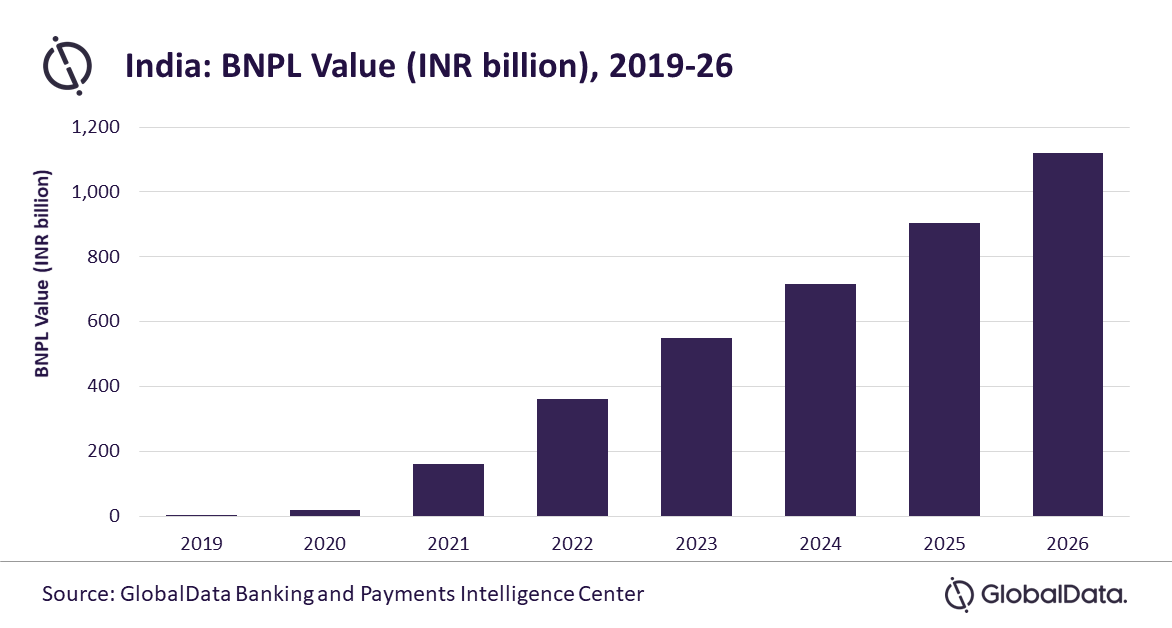 The major BNPL brands in India include Amazon Pay Later, ZestMoney and Flipkart Pay Later. Launched in April 2020, Amazon Pay Later already has over 3.7 million registered users, driven by a faster customer sign-up process, and its wider use cases for goods purchases and utility payments. The existing large customer base of Amazon has also contributed to its success.
Shivani adds: "With more players entering the BNPL space and increasing consumer awareness, BNPL presents a huge business opportunity in India. The high growth in BNPL transactions during the last couple of years has resulted in many new players entering this market."
BharatPe is the latest to join the bandwagon with its 'postpe' service in October 2021. Apart from payment services providers and retailers, even online food delivery providers such as Zomato and Swiggy are planning to launch a BNPL solution.
Shivani concludes: "BNPL will continue to grow at a rapid rate in India over the forecast period driven by a shift in consumer preference towards online shopping. Increasing inflation will further push the demand for flexible short term credit options, helping its growth."
* GlobalData's BNPL data reflects online transactions made using BNPL solutions and does not include post-purchase payment splits, and pay later options offered via credit card.