Starting a business is no easy task. There are countless factors to consider, starting from the initial planning stages to the day-to-day operation of the business. For aspiring entrepreneurs in Malaysia, the process can be even more daunting. In recent years, Malaysian businesses have been impacted by several factors, including political instability, economic uncertainty, and rising costs. As a result, many would-be entrepreneurs have found it difficult to get their businesses off the ground. Fortunately, there are several government loans available to help aspiring entrepreneurs overcome these challenges.
Besides a business loan, the government also offer loans for other purposes. For example, there is a Government housing loan scheme, government personal loans, educational loans, and agricultural loans. A government business loan in Malaysia is typically a safer option than a conventional loan for several reasons. They provide applicants with flexible options such as a longer loan tenure or low interest rate to make it more affordable.
Not just that, the government provides guaranteed coverage between 70 and 80% to offer less risk for the financial institution when giving out the loan. Participating financial institutions will be more willing to lend you money, knowing that they'll likely get it back. Because of that, the financial institution will not require collateral like most conventional loans.
By providing access to capital, these loans can help entrepreneurs turn their dreams into reality. So if you're thinking about starting a business in Malaysia, check out this list of 7 government loans in Malaysia.
PEMULIH Government Guarantee Scheme (PGGS)
The PEMULIH government guarantee scheme is a package created to help businesses recover and compete in the market after the pandemic. There were moratorium periods in place during the peak of the pandemic, and now they've stopped, leaving some businesses in financial trouble. PEMULIH provides business owners with an accessible government backed loan to help them make ends meet.
The scheme provides a 12-month moratorium on loan repayments, with a 3-month extension if needed. This will give businesses some breathing room to recover and restructure their finances. Secondly, the scheme provides easy access to financing. This can help businesses invest in new equipment, inventory, or simply cover operating costs. The scheme limit is RM30 billion and is open for application until full utilisation of the limit.
PEMULIH is also open to SMEs and MSCs in any industry with annual revenue not exceeding RM500 million in a financial year ending in 2019 or later. The companies must have sole proprietorships, and at least 51% shares held and controlled by a Malaysian citizen.
The PEMULIH government guarantee scheme is a comprehensive package that can help your SME recover from the pandemic and compete in the market.
Working Capital Guarantee Scheme (WCGS)
SJPP have a set of schemes called the Working Capital Guarantee Scheme (WCGS) that supports various types of SME owners and industries:
Working Capital Guarantee Scheme – Start-Up (WCGS-SU)
Working Capital Guarantee Scheme – Bumiputera (WCGS-B)
Working Capital Guarantee Scheme – Export (WCGS-X)
Working Capital Guarantee Scheme – Women (WCGS-W)
It is an extremely popular financing scheme due to the opportunities opened up for marginalised groups of business owners. Also, the WCGS offers a lower cost of obtaining financing facilities, guarantee fees, and interest rates. The WCGS can provide SMEs with several exciting opportunities due to the large scheme limit of RM27.5 billion. All you need to be eligible for this scheme is to be an SME with a sales turnover of less than RM20 million with less than 75 full-time employees if it's a non-manufacturing business. However, if you own a manufacturing business, you will be considered an SME if your sales turnover is lower than RM50 million with less than 200 workers.
Working Capital Guarantee Scheme – Start-Up (WCGS-SU)
Starting a business is tough, and it got even harder after the dreadful impact of the economy. Without SMEs, the economy could take an even bigger hit. That's why the Malaysian Government feels so strongly about supporting upcoming entrepreneurs to start new businesses. The WCGS-SU was created to help start-up businesses obtain access to working capital and capital expenditure.
To be eligible for the ECGS-SU, you will need to be a Malaysian SME owner. Your SME will need to be within six months to two years of operations to qualify for this loan and receive financing between RM50,000 to RM500,000. The government helps start-up owners receive approval from participating financial institutions by providing a 70% guarantee coverage. During the application, SJPP will conduct a mandatory visit to your business to inspect the day-to-day operation.
Working Capital Guarantee Scheme – Bumiputera (WCGS-B)
The Malaysian Government have allocated a budget of RM3 billion to help Bumiputera entrepreneurs develop their business ventures. The main goal of this scheme is to help increase their competitiveness in the market by reducing their financial burden.
Bumiputera business owners aged 18 and above with at least 51% of the controlling shares of a Malaysian SME are eligible to apply for this scheme. You also need to register your business as a Bumiputera Company with SSM Malaysia, which means ethnic Malays should own 100% of the business and fill up at least 51% of the board seats and workforce. Each Bumiputera business is eligible to receive financing anywhere between RM100,000 and RM3 million, with a generous 80% guarantee coverage.
Working Capital Guarantee Scheme – Export (WCGS-X)
Most of the world's consumers live outside Malaysia, so many companies find it profitable to include exporting into their business model. The Malaysian Government wants more local businesses to tap into this larger market to help our economy grow. It also helps develop Malaysia's name as a reliable source of innovative goods and services. This is why the Malaysian Government launched the WCGS-X, to help more local businesses grow their exporting trade.
SMEs that receive a minimum of 30% of their turnover from export-based businesses can apply for the WCGS-X scheme. Improving the export trade is a high priority, hence the high scheme limit of RM1 billion. Each business will be covered with a guarantee of 80%, with a financing limit between RM100,000 and RM10 million.
Working Capital Guarantee Scheme – Women (WCGS-W)
Starting a business can be very rewarding but difficult, especially for a woman. Women face many hardships that men do not, such as the wage gap, lack of access to capital, and the challenge of balancing work and family responsibilities. These challenges make it difficult for women to succeed in business. However, by working hard and taking advantage of available resources, women can overcome these obstacles and create successful businesses.
The WCGS-W is the perfect resource for women entrepreneurs to access working capital financing. This scheme was implemented to help female business owners with working capital financing, with a scheme limit of up to RM500 million. Women who own at least 51% of a Malaysian business can apply. Each business owner can apply for anywhere between RM100,000 and RM1 million with a loan tenure of up to 15 years.
Automation & Digital Guarantee Scheme (ADGS)
Many businesses suffered during the pandemic because of their inability to adapt to the new market requirements. The ones that survived did because they digitalised their operations and still reached their consumers. The Malaysian Government are encouraging SMEs to start automating processes and digitalising their operations to boost business efficiency and competitiveness. Any SME business owner can apply and receive up to RM10 million in funding with an 80% guarantee coverage.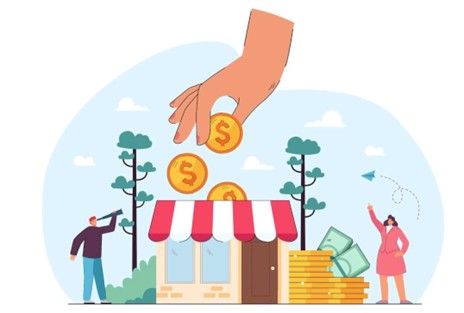 Find The Best Government Secured Loans At SJPP
So, if you're an aspiring entrepreneur trying to take your business to the next level, a government loan in Malaysia might be the perfect option for you. The government backs these loans, so they come with many benefits that can help your business get off the ground.