Over the years, social media channels such as Instagram and TikTok have been the catalyst behind many fashion trends and tastes. From celebrities style to TikTok videos of DIY clothing designs, yet another trend has emerged – cottagecore.
Cottagecore fashion revolves around the idea of living in cosy cottages in the countryside and being surrounded by the woods and nature. It encompasses things like cosy jumpers, light floral dresses, flower headpieces, or any other clothing items that present a tranquil and countryside aesthetic.
With this in mind, we've seen a rise in the number of people searching for cottage retreats and then bringing the aesthetic home. Here, we discuss how much the UK nation is craving a cottagecore lifestyle, and how to bring the cottage-aesthetic home to you.
What the trends suggest
Having spent months at home recently, many of us are looking for short weekends away or staycation holidays to venture on now that we can do so again. With this in mind, search trends such as 'holiday cottages' appear to be a popular preference for people in the UK.
The term 'cottages to rent' has shown to be a popular choice for many people, particularly based in the North West region of the UK, scoring a search volume of 54.56 in comparison to its population density.
We can see just how popular this trend has become through the UK's searches for 'cottage' related key terms over the last 12 months.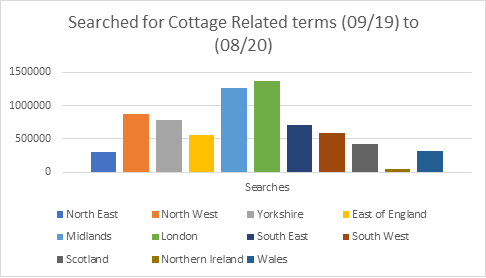 As shown above, London is responsible for 1,375,450 Google searches for cottage related key terms. This is followed closely by the Midlands, gathering 1,258,850 related terms. On the other hand, the data suggests that the likes of the South West and the North East aren't jumping on board the trend for a cottage-core lifestyle. These regions have lower search volumes surrounding cottage related terms.
Bringing the cottagecore aesthetic home
We can see that cottage getaways have become increasingly popular across the UK nation over the last 12 months. Following this, many are looking for fashion and décor inspiration from these cosy and traditional cottage themes too. As the colder months approach, comfort and tranquillity is a feeling we all crave. Let's look now at how you can bring a cottage aesthetic into the comfort of your own home.
Florals, checks, and stripes
Since cottagecore fashion revolves around all things floral, checked, and striped, embedding these patterns into your furniture is the first step towards adding a cosy cottage theme to your home. For example, curtains or bedding covered in a floral pattern helps add a traditional cottage style theme within your home.
The art of a DIY aesthetic
When we think about cosy cottages, it often conjures images of your elders sat by a fire with a blanket over them. With this in mind, taking a leaf out of their DIY book could see you add the finishing touches needed to your cottage-inspired décor.
Whether you choose to knit or sew a new blanket or a bed runner, investing into some DIY work that uses all the old fabrics you have lying around is a great way to add some additional cottage-inspired touches to your home.
Dressers and display cases
For those wanting to incorporate the cottage look into their own home, making some changes to your furniture will put you in the right direction. Investing in a traditional farmhouse kitchen table or an old rocking chair are both effective ways to achieve a cottage interior.
For those that already have an old-school farmhouse dresser lying around waiting to be of use, add a vintage china set or antique silver display onto them to help bring the piece to life.
Garden makeovers
It's not just the interior you have to think about – the exterior to your home is what sets the initial cottagecore scene too. To create a picturesque garden that is filled with wildlife, invest in a huge variety of flowers and place them all around the exterior of your home. Purchasing a bird feeder for your garden or making a pond is an effective way to attract animals and birds to your garden to create a countryside feel.
To help frame your new cottage-inspired garden display, place a quaint picket fence around the border. This will give your property a more enclosed, private feel.
As social media continues to influence our fashion tastes, trends, and styles, we can use this as inspiration for our home décor. Bring some of the country life we as a nation adore home to you and adopt your interior to reflect exactly that.